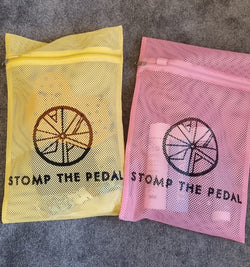 I originally bought these out in 2019 and have wanted to bring them back for so long.
These mesh bags are made from recycled bottles and feature a strong silver zip whilst featuring the Stomp the Pedal name and logo.
Initially the bag is a little stiff but will soften over time.
Perfect for your placing your kit inside and print in the washing machine, also can hold all your swim kit, can also hold up to 6 cycling kits, perfect for packing your gear for training camps,  races, and even just the general holiday.
Comes in a pale pink and pastel yellow.
Measurements ~ 45cm length and 30cm width
Love my new swimming kit bag so I can just grab and go 💕💕
I own one of the original bags and it's still going strong and is super versatile. No cheap zipper here either, this bag made to last. I love it.